Erasmus+
---
Erasmus is an exchange program for Higher Education funded by the European Commission. It encompasses the entire European Union and, since 2014, any participating countries (and their universities). Erasmus allows students from universities, which have signed Erasmus bilateral agreements with Wyższa Szkoła Biznesu - National Louis University, to study at WSB-NLU for one or two semesters as part of their degree courses.
Wyższa Szkoła Biznesu- National Louis University has a number of exchange agreements with institutions all over the world. Students from these institutions are welcome to study at WSB-NLU within the framework of the Erasmus + Exchange Program. International students of WSB-NLU can also participate in this program and spend one or two semesters in one of WSB-NLUs partner universities all over the European Union (subject to completing the application process).
The academic, professional, social, personal and cultural benefits of participating in the Erasmus + program are magnificent. It can be a challenge to live far away from home and study in different country but from the other way it can offer you a opportunity to travel, meet new friends, to learn new cultures, study subjects that may be unique at your home university.
WSB-NLU Erasmus+ Policy Statement
Forms
---
If you are interested in coming to WSB-NLU as an Erasmus Exchange Student, visit your Academic Tutor or your Erasmus Coordinator at your home institution to apply. We will send you a letter confirming that you have a place as an Erasmus student and informing you of the start date of the program.
Before you apply for the scholarship
---
If you decide to participate in the ERASMUS+ program, at the beginning you should familiarize yourself with the qualification rules for the Erasmus Scholarship (in the academic year 2018/2019).
Look for information about:
» The universities which signed the agreement with your university for the particular academic year
» The application deadlines
» The criteria of qualification
» The documents required for applying for the scholarship
» The documents confirming a required foreign language knowledge
Course Catalogue
---
The course catalogue available in academic year 2018/2019 for Erasmus+ students is placed under the link provided below. Click on the link and choose the subjects that you are interested in here: Course Catalogue 2018/2019
ECTS at WSB-NLU
---
ECTS (The European Credit Transfer System) makes teaching and learning in higher education more transparent across Europe and facilitates the recognition of all studies. The system allows for the transfer of learning experiences between different institutions, greater student mobility and more flexible routes to gain degrees. It also aids curriculum design and quality assurance.
Nowy Sącz School of Business – National-Louis University (WSB-NLU) introduced the ECTS in 2000. The ECTS credits are granted to all students taking part in WSB-NLU programmes elements.
How are the ECTS credits calculated and distributed?
Each course is characterized by a specific learning outcomes, which describe what a student is expected to know, understand and able to do after successful completion of a process of learning. Moreover, there is information of the types of applied activities to acquire certain knowledge and skills (lecture, class, conversatorium, seminar), as well as the assessed workload.
Workload indicates the time students typically need to complete all learning activities (such as lectures, seminars, classes, student training, final tests and examinations) required to achieve the expected learning outcomes ( see an example below) . 1 ECTS credit is assigned to 25-30 h of student's individual work. The curricula are prepared in such a way that the workload needed within one academic year equals 60 credit points.
Learning activities
Hours
students typically need to complete learning activities
Hours in class
60
Hours in class
90
Office hours
30
The sum
180
ECTS credits:
6.00
Notes
1 ECT is worth 25-30 hours workload. Own work concerns. preparing for exams, lectures, mainly reading books, additional materials, and preparing homeworks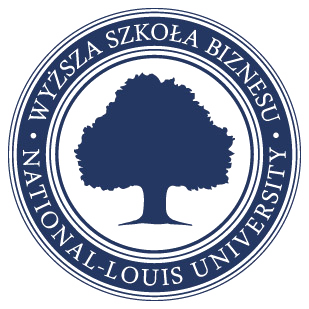 The workload of a student is systematically monitored. The estimation of an average student workload is verified through student questionnaires. If the assessment of workload for a given subject proves to be wrong, according to the results of student questionnaires, all necessary changes and modifications are introduced into the study programme.
Grading system
As the ECTS credits reflect the quantity of work, ECTS grades represent the quality of work. ECTS grading scale has been developed in order to help institutions to transpose grades into their own evaluation system. In the case of WSB-NLU (cooperation with National-Louis University and offering Bachelor of Arts in Business Administration programme) three different trading scales are united.
WSB-NLU Grading System
ECTS
NLU
Outstanding performacne
5.5
A
4.0
Very good
5.0
B
Good plus
4.5
C
2.0
Good
4.0
Satisfacotry plus
3.5
D
2.0
Satisfactory
3.0
E
Failed
2.0
F, FX
0
According to WSB-NLU evaluation standards (guidelines), students usually achieve following grades in relation to their course performance:
| | | |
| --- | --- | --- |
| From | To | WSB-NLU Grade |
| 95 | 100 | 5.5 |
| 87 | 94 | 5.0 |
| 79 | 86 | 4.5 |
| 71 | 78 | 4.0 |
| 61 | 70 | 3.5 |
| 51 | 60 | 3.0 |
| 0 | 50 | 2.0 |
Apply now
---
In the program selection, please choose:
Place of recruitment: Nowy Sącz
International Relations Office contacts:
Erasmus+ Coordinator: dr Justyna Sokołowska - Woźniak
Email: erasmus@wsb-nlu.edu.pl
Tel: 18 44 99 107